Welcome to the most accurate and informative NFL Draft site on the web!


Recent Updates
April 14th- Updated Mock Draft(2 Rounds)
April 11th- Updated Sleeper Report(7th Rd.)
April 9th- Added Scotty Anderson Interview
April 7th- Updated Draft News
April 6th- Updated Rising/Falling




Hi, my name is Matthew Gambill and I'm the President of All-Pro Scouting Services, L.L.C in New Orleans. I have been doing NFL Draft analysis for years now, and I want to share my thoughts with all of you. Over the years, I've been able to make contacts with a number of NFL agents. The majority have told me how hard it is for them to do their own recruitment of dozens of players as well as all their other tasks. That's when I decided to offer my service. I present each agent with a list of over 500 prospects(D-1A, D-1AA, D-II, D-III, and NAIA), including names, school, class, height, weight, 40-time, personal information, and contacts. This is all done in an effort to help YOU out. I can help expand your clientele and make you money along the way. I know what NFL GM's are looking for and I will provide all of you with insightful information throughout the draft process.


As I look at more and more game tape, it becomes more obvious that this draft should be a pretty good one. The QB's will be weak, but as I go through other positions, there is an abundunce of quality NFL talent.

The position that has impressed me more than I thought it would is CB. With the emergence of guys like William Peterson, Ken Lucas, Will Allen, and others, this position is shaping up to be VERY strong. There may be as many as 8 corners taken in the first two rounds!!!

Another position to watch out for is WR. With Underclassmen like David Terrell and Koren Robinson in the mix, this is by far the deepest position in the ENTIRE draft. It will be interesting to see where the top seniors like Santana Moss, Rod Gardner, and Quincy Morgan will end up.

I'll be updating my site regularly, so check back to see what new stories I have for you. Please e-mail me your comments or suggestions. I'd like to know what everyone thinks about this site.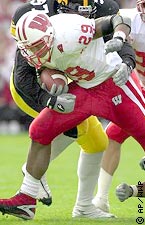 *********EXCLUSIVE INTERVIEW*********
Recently I was able to conduct an interview with Wisconsin RB, Michael Bennett. Bennett, after his first year of starting at the collegiate level, decided to forego his senior year and enter the NFL draft. He leaves after being named 1st team All-American, 1st team All-Big Ten, and 2nd in the conference in rushing with 1,681 yards and 11 TD's. At 5'9 1/2", 207, and running a blistering 4.25/40, Bennett has established himself as one of the top RB's in this draft.

You can see my interview with Michael Bennett by clicking here.

Draft News
Michael Bennett, the super fast RB from Wisconsin, is moving up draft boards yet again. The 5'9 1/2" 207-pound speedster is again being talked about as a possible top 10 selection. Should Deuce and L.T. be gone when the Niners select #9 overall, Bennett will get alot of consideration. He's also a strong possibility for Carolina at #11 and Kansas City at #12. To all those who question the kid's character, DON'T. It's a dead issue. Michael is moving on and moving up to bigger and better things.

I've been taking alot of heat recently for my CB ratings. Why? People have been making a fuss that Willie Middlebrooks is my #1 rated CB in this year's draft. I don't see what the fuss is about. At 6'1", 202 and running a 4.34/40 at his pro day workout, Middlebrooks is clearly the CB with the most upside potential. I think he could have benefited tremndously by another year in college, but nonetheless, he has the ability and upside of a top 20 pick. One thing is for sure, Jamar Fletcher will NEVER crack my top 5 CB's.
NFL News